Discover more from ChinaTalk
Deep coverage of China, technology, and US-China relations We feature original analysis and reporting, interviews with leading thinkers and annotated translations of key Chinese-language sources.
Over 28,000 subscribers
ChinaEconTalk: Bikesharing Ofo Flew Too Close to the Sun
I'm Jordan Schneider, the host of SupChina's ChinaEconTalk podcast. In this newsletter, I translate articles from Chinese media about tech, business, and political economy. This week on the ChinaEconTalk podcast I chatted with Donald Clarke, law professor at GWU. Following a thorough introduction to the structure of the Chinese legal system starting from the Qing dynasty, Clarke discusses a provocative article he recently co-authored, Who owns Huawei?
For this week's newsletter we're telling the story of Ofo in two parts. Their dockless bike-share model blew my mind when I first moved to China, and for a time Ofo was the hottest startup in the world. But today, half the Ofo bikes I try to unlock in Beijing are broken, thousands have lined up outside Ofo HQ to demand refunds on their $30 deposits, and their CEO is now on a blacklist and barred from leaving the country. What caused such a precipitous fall?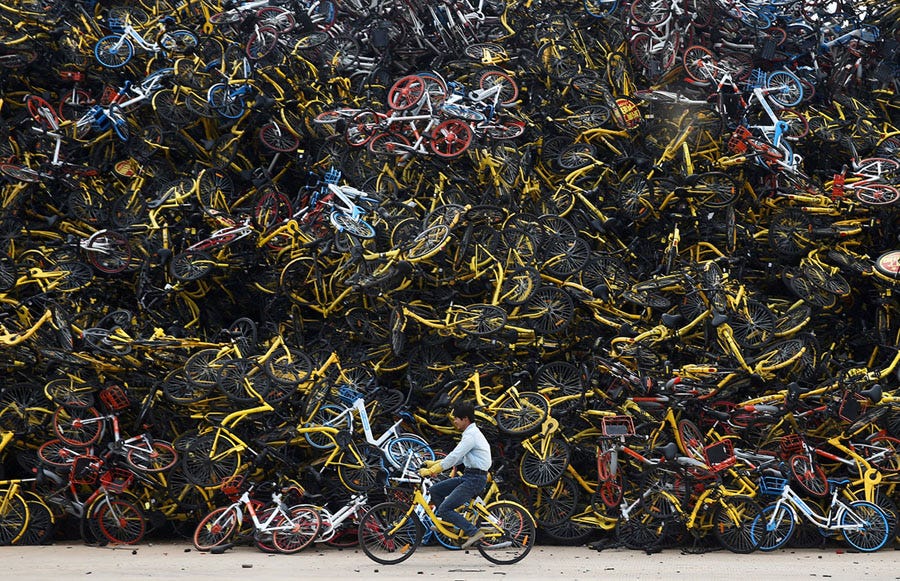 Credit The Atlantic
To tell the story, which has potential implications for Western firms across the tech mobility space like Uber and Bird, I'm translating two articles. One was published six months ago in Caijing which SupChina nominated the best longform Chinese language piece of the year, and another came out a few weeks back that focuses more on the investor side of the bubble. The first article I directly translate while the second is mostly paraphrase.
The Ofo Story: "With so much money and so many youths burned away, all that remains is a good story to tell."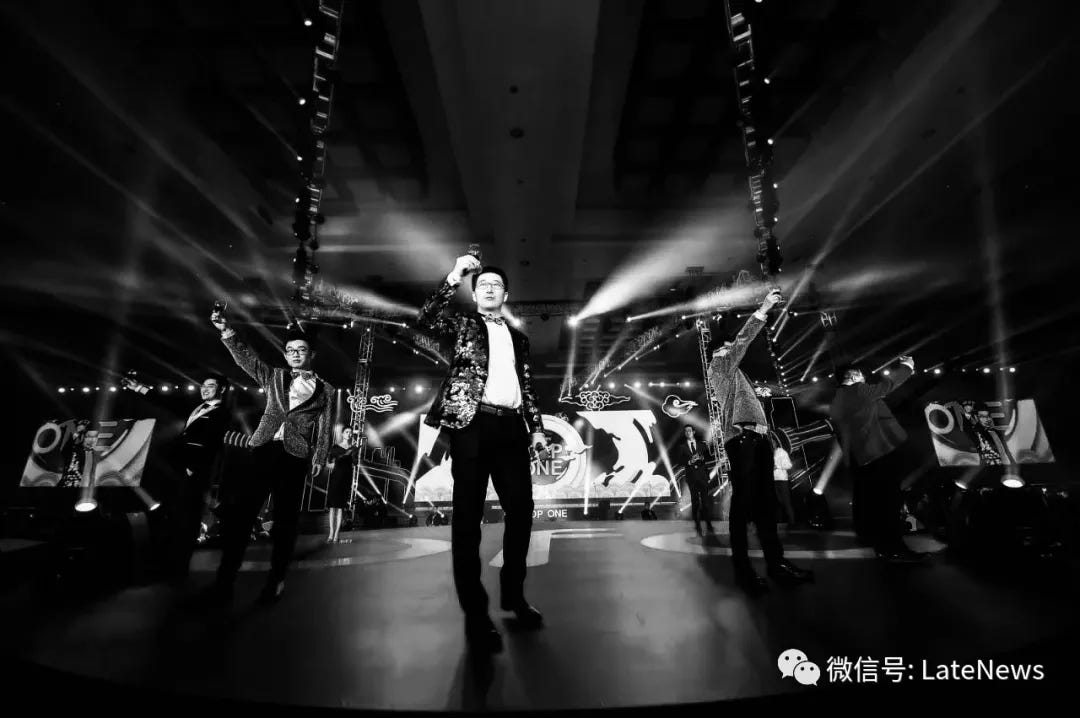 Ofo's annual party in early 2018 when the firm was at its peak
T的钱和那么多人的青春烧掉了,留下一个好故事。
Cai Jing by Zhang Jun
December 5, 2018
In three short years, pushed forward by capital, Ofo climbed to the summit with shocking speed and then fell just as fast. In the business world, this is an extreme case – full of internal and external challenges, all in an extremely compressed timeframe, for just a 27-year-old CEO.
The story of Ofo isn't over yet. Even if the audience weary and burned out, no one is willing to take their last bow. This story carries too much money, prestige and blood. Once the bubble bursts, so much money, so many bikes, so many youths and dreams will turn into scattered ashes. No one wants to press the "liquidation" button. 
The founding team is seeking help from government officials, exploring a public listing and investors. Among investors, Alibaba, DiDi, CITIC, and DST have set up a debt repayment committee to carry out debt restructuring; many suppliers have agreed to debt-for-equity swaps. This is the only option for them to get back their money.

Ofo employees don't want it to end. "When the winter is over, do we have a big dream in the spring and autumn?" one employee asked.
The Good Times
Dai Wei, born in 1991, is 25 years old and has just graduated from Peking University Guanghua School of Management [translator's note: In the Chinese educational system, your test scores don't just determine which school you can attend but also which major you're allowed to major in. Some students opt for less marketable humanities majors to go to higher ranked schools. PKU's undergraduate management school is perhaps the nation's most sought-after major, the most competitive major at the nation's top school]. He came from a top family and his father is the chairman of the state-owned enterprise. A subordinate appraised him, "He is a good student, but is rebellious to the bone and has the stubbornness to realize his own desire." - When others said that he wasn't smart enough to make it to Peking University, he tested into it; others said that he wouldn't win in the student union presidency election [a stepping stone to a political future], he pulled out a victory. "That was a miracle."
For most of 2015-2016, the story of ofo revolved around colleges and universities. In April 2016, it encountered its first expansion hurdles. Students were riding bikes out of campus, and the bicycle loss rate is high. In response, Ofo raised the price for non-students from 5 yuan (.75 cents) to 30 yuan ($4), but even this failed to scare these "uninvited guests".

During the Tomb Sweeping Festival, watching the order volume fall, Dai Wei made a bold decision: suspend service. Taking advantage of the holiday, the platform was suspended for three days. In the end, they recovered more than 3,000 bikes from inside and outside the school. At the same time they hired about 50 old men to guard school gates with a salary of 10 yuan [$1.5] / hour.
Money! Crazy money! Endless Money!
Just as Ofo was tasting the fruits of success from their university-based strategy, Mobike hit the Shanghai streets.
Because of the high density of bikes, Ofo's efficiency in colleges and universities was encouraging. According to employees, a bike was getting ridden 10 times a day, for 5 mao a ride, earning 5 yuan (75 cents) a day, and recovering costs in more than a month. "The model was so good, everyone was a little intoxicated."
Mobike scared Ofo. The cost of their bikes were 3,000 yuan, which is 15 times the cost of a small yellow car [making them much more sturdy and long-lasting]. They were worried about Mobike's popularity and their strong production capacity. In September 2016, Mobike also blatantly entered the Peking University, the base camp of Ofo. Ofo finally couldn't sit still.

In addition to the enemy, there was the money. According to public information, ofo completed four rounds of financing from October 2016 to July 2017. From C to E, the total financing amounted to more than $1.28 billion. Investors included more than a dozen star capital sources such as DiDi, Ali, Xiaomi, Ant Financial, DST, and CITIC Industry Fund. (At the same time, Mobike disclosed more than $915 million in financing.)

"At that time, we felt that the amount of investment was much larger than the amount of money we needed. There was a lot of money backlog and it could not be used at once." An employee who was on the finance team said, "Too much! Although this money doesn't have a half-money relationship with you, but it makes you feel sorta crazy..."
At that time, the industry-recognized shared bicycle competition model was: financing - capacity expansion - get bikes on the ground. Most of the money goes into the purchase of bicycles. March to July 2017 were the most crazy five months of ofo procurement. The monthly purchase volume is 3 million to 4 million bikes, and a total of 16 million bicycles are purchased, and the actual fulfillment is about 12 million.

At that time, Ofo bicycles cost 360 yuan, the mechanical lock was about 20 yuan, the transportation logistics was about 15 yuan, for a total of nearly 400 yuan. Change that to a smart lock and add 200 yuan, which is close to 600 yuan. The total purchase volume in five months is 12 million, multiplied by the average cost of 600 yuan, and the purchase and payment amount of these five months is - 7.2 billion yuan, or about a billion USD.
However, when other departments are unrestrained, the Ofo was relatively stingy when it came to the hardware department, which had a low status internally.

An Ofo PR explained that this is because Ofo and Mobike operate on two different models. Ofo always thought that it was an Internet company, so growth and speed are the more important, and therefore the bikes and locks are just means to an end. Mobike however thought of itself as an IoT company and consequently put more money and effort into its lock and bike.
Towards the end of 2017, Ofo's hardware issues caught up to it. Once, a batch of 1.5 million smart locks could not be opened normally due to design problems.
The good news is that in June 2017, Ofo was gaining market share. However, in the reckless spending, Dai Wei noticed that something was wrong. At an internal meeting in mid-2017, Dai Wei told the senior executives that everyone's performance and reports are excellent, but executives have no concept of money.
An outside entrepreneur said that the war between Ofo and Mobike was blinded by the fight and that the leaders were ignoring the nature of the business - "You will mistakenly think that the deposit [the $30 that each user deposited to use the service] is your income, but the deposit is actually your debt; you will mistakenly think that the bike is your asset and not factor in the cost of the expenditure; you may not expect that the cost of the purchase may not be recovered, and the recovery will have to pay a higher price."
An anonymous employee from Ofo PR said: "Although I personally felt that the financial model made no sense, so many famous investors piled in, and I figured that I can't have a better understanding than the investors."
The cruelty of growth
One employee said that Dai Wei doesn't like to talk business.
In November 2016, before the big expansion, Zhang Yanqi was brought into Ofo as the chief operating officer. Zhang Yanqi was an Uber China star executive, famous for making Chengdu Uber's fastest growing city. When he joined Ofo, he brought a handful of former Uber operators.
At the internal meeting where Zhang first attended, an old employee made a report, and Zhang Yanqi asked a question. The old employee said disdainfully: "I haven't said this before?" Dai Wei quickly came out to mediate, slightly harshly said to the old staff: "Why, are you guys such hot shit?"
Lei Dongxue (pseudonym), an employee of the company who joined the company in 2016, said that every new round of financing was accompanied by new executive, and all departments are constantly leading 'airborne' leadership. Often the situation is that when a leader comes, he will recruit his own team, the original employees are marginalized, and the company is redundant.
Big bang, chess pieces, struggle
When the hammer really falls, investors, suppliers, and users will not be spared. But on the other hand, it is these investors, suppliers, and users who handed the hammer to a child.
Ofo's attitude toward Didi has undergone three major turns, and three years have gone through a whole evolution from adoration, to newlyweds, to hated enemies.
One employee recalled 2016: Ofo CEO Dai Wei went out to see various investors every day, and returned to the company exhasted, and soon fell asleep at the station. But he repeatedly said that "[DiDi CEO] Cheng Wei is a quality guy (贵人)." The employee believes that during this period, Dai Wei and the other major investors are acting more like teachers to the young CEO student, with Dai Wei complete unaware of the true game being played.
On July 1, 2017, Ofo did something that the outside world did not understand. On this day, Ofo announced the establishment of a CPC party committee, Dai Wei was elected as party secretary, co-founder and core executives were elected members of the party committee. Some think that their intention may be to have a decision-making body in addition to the corporate governance structure of the board of directors to ensure the company's control. The move showed Ofo's wariness towards its shareholders.

Soon after, on July 25, the DiDi executives entered Ofo. Everyone knew that Ofo and Mobike were opening global fronts in their battle, and both companies have been recruiting DiDi employees. But Ofo's headhunting for DiDi's employees pissed DiDi off. At one time, Dai Wei said at the internal meeting that he would like to discuss with DiDi. "If we don't recruit these people, they'll just go to Mobike, so we might as well give them offers."

At almost the same time, DiDi promised to help broker Softbank's investment, on the condition that the DiDi executives join Ofo. "Dai Wei's young, I don't know why I let them expand so fast, and there are so many employees now."
Among the staff of Ofo, some people appreciated the professionalism of the DiDi team (like forcing teams to think seriously about finances), and some people felt that the process was cumbersome and the atmosphere strange. One supplier felt like: "Big brother just showed up, but at least now I get payment for goods."

The confrontation takes place at a higher level. For instance, at an executive meeting, Dawei was brimming with ideas but the seniormost DiDi transfer Fu Qiang manager had a negative attitude. For example, Dai Wei wanted to buy BlueGogo, but Fu Qiang didn't agree.
At the end of 2017, BlueGoGo went bankrupt. However, Didi has completely taken BlueGoGo's operations, which gave them the licences to launch their own bicycle brand "Green Orange Bicycle." The existence of Green Orange became DiDi's trump card in negotiations with Ofo.

In the "honeymoon period" of DiDi and Ofo [at which point you could unlock Ofo bikes from within the DiDi app], there was another meaningful turning point. Ofo got plugged into DiDi's app, and got a share of its traffic, but soon realized that found that ridesharing customers and those who take bikerides are two distinct groups. Bike riders would occasionally take rideshares, but not the other way around. "This was proof that the ridesharing market was cannibalizing the bikesharing one, and we were giving DiDi new customers without them returning the favor," a senior Ofo executive said. However, DiDi's financing of Ofo stipulated that they weren't able to go into the ridesharing business.

"The data came out, and everyone started to realize how big a deal this was." an Ofo official said. "Everyone needs to have control. Ofo doesn't want to be a side dish, but it's too late, since it has already given its neck to others."
However, the vast majority of employees were not aware of the sharp arrows at the top. For most people, after the arrival of the Didi team, Ofo seemed to be firing on all cylinders.
At this time, DiDi and Tencent pushed Ofo and Mobike to merge before the end of the year.  The Softbank investment promised by DiDi was delayed, and there were rumors of Ofo corruption. While the big boys were sorting things out, the deadly threat to Ofo was that new financing had not come in. The promotional activities that pushed Ofo to the top of the market exacerbated the capital issues.
A person close to Softbank said that the press release on Softbank's investment in Ofo had been written, and the amount of financing written in the draft was $1.8 billion.
One day in November 2017, thirty people suddenly disappeared. "All of a sudden there was no-one." A Ofo middle manager described the shock at that time. "It's like a horror movie ghost ship. Everything is still on board, coffee is still warm, but the people are gone."

For Ofo, [firing the managers from DiDi who had been helicoptered in] was a well-planned operation of resistance. DiDi's countermeasures, however, were also organized and disciplined. A middle-level person from DiDi said, "If we don't go, in the eyes of the Ofo CEO we're just DiDi's people, and DiDi is becoming the enemy. When the gods come to blows, you can only passively accept the results." They greed on the same day to collectively leave, even leaving messes on their desks. After two or three weeks, after negotiations came to naught, the employees returned to tidy up.
The above-mentioned ofo middle manager remembers that when the DiDi people came back to clean out their desks they said: "We out! See you on the battlefield (江湖)!"
On the day when [DiDi helicopter manager] Fu Qiang was driven away, Dai Wei called an internal meeting inside to inform the company to start making a profit– this is an exact signal that the funds were insufficient. "Before this, everyone had been full of confidence, and felt that there was plenty of capital just waiting to come in," said a middle manager.
A person close to Dai Wei said that Dai Wei reflected afterwards and was too optimistic about the financing rhythm. In September and October of 2017, the competition between Ofo and Mobike increased, and Ofo took a the pole position. "At that time, international capital lined up to invest, and I never thought that we would be short of money."

"A child is going to wield a sledgehammer. But can he control it?" said an Ofo supplier. He now hopes that the hammer can rise again and let the ants in the shadow quickly scurry away. When the hammer really collapses, investors, suppliers, and users will not be spared. But on the other hand, it is these investors, suppliers, and users who handed the sledgehammer to the child.
Big Dreams, Youths End
In the office of the Ofo CEO hung two portraits - Jose Mourinho and Churchill. For a period of time, many inside Ofo read Trump's autobiography "Never Give Up."
In the past year, the perceptions and inner ups and downs of different employees have been different. The supply chain was the first to feel a depression when most employees were overwhelmed by various acquisitions and merger rumors. Since the end of last year, Ofo has been lengthening the period of time for suppliers, first from one month to three months, and then six months. Originally, in January of 2018, there was a batch of payment, but then Ofo could not make good. The supply chain employees were busy dealing with the complaints of various suppliers every day. "We will definitely pay, please understand," they said.

In May, Dai Wei sent Churchill's 'Victory Speech' around internally and launched his "Victory Plan", proposing a battle to earn a profit of 1 yuan for Ofo. Because of the "V" plan, Ofo had employees work six day weeks, but soon found that the staff didn't really have all that much extra work to do, so they quickly ended up taking two day weekends. A perceptive employee interpreted it as "as soon as he sent the 'Victory Plan,' we already knew that we had lost."
Since then, layoffs and turnover have become more frequent. The 500-person resignation group [WeChat groups can only fit 500 people] has been filled and now has a second. The problem that employees in the group are most concerned about is: "When is their compensation?" Only a small number of employees now get it. After a delay, some people are ready to use labor arbitration.
"Everyone is waiting for the end, but you think you lived in the last episode, but it has been the penultimate episode," said an employee who left in July 2018.
In September 2018, Caijing learned from two independent sources that the transaction of DiDi's acquisition ofo was complete, and was just awaiting signatures from the two sides. Ofo had told its suppliers: "DiDi money is on the way." It is a pity that the case of the DiDi murder on August 24 broke out, and the case and subsequent regulatory storms were full of twists and turns.
The mentality of suppliers is full of contradictions. On the one hand, they respect the founders' youth and determination, and hope that Ofo can stand up again; on the other hand, they feel that in the cooperation with ofo, they've been played. A supplier once said a meeting with Ofo: "We are also first time founders."
"Even if I don't pay, I am willing to work for for a while." A post 90's generation employee initially said, but he still left because he couldn't stand the internal atmosphere. "You can't call it Ofo [the name was picked because the letters kind of look like an old-school French bike], call it 'Of', because there are no wheels. It's broken."
In the winter of 2018, when the smog swept the city and times got particularly hard for Ofo, some warmth remained. On November 28th, Dai Wei wrote at the end of the internal letter: "As long as there is faith in the heart, the winter and the darkness will not be able to bring us down."
Ofo's Final Story
GQ - ofo的终场战事 Wei Shijie. June 17, 2019
Ofo flew too close to the sun. Why was the rise so precipitous? A sexy model and investor FOMO. The business model of scattering bikes around cities and allowing users to unlock them with their phones for an upfront deposit plus 25 cents per ride was incredibly attractive. Financial analyses of the firm "raised the fighting spirits of investors" who worried that if they weren't able to wriggle their way into Ofo's cap table, "everyone would know that they weren't top-tier funds."
The enormous funding rounds (at its height, Ofo raised an Alibaba-backed $866 million round on a $3 billion valuation) combined with a fierce battle for market share with competitor Mobike led, unsurprisingly, to reckless spending. "'Just think about winning the war—don't worry about money' was the key internal slogan echoing in employees' ears. Describing that time, one employee said, 'It's like when a poor person wins a million dollars in a lottery, but the requirement is that you need to spend half of it to keep the other half. You don't know how to spend the cash, so you just blow it."
So the firm spent tens of millions on Facebook ads alone to spark overseas growth, splurged on heated toilets and "Google-level" food to attract top talent, and spent extra for rush orders on bikes.
What was the turning point? According to this article, as well as a Pony Ma WeChat Moments post, it came down to veto rights.
"Experienced entrepreneurs know: Under normal circumstances, do not accept investments from two (or more) of Tencent, Alibaba or Baidu at the same time. But Ofo CEO Dai Wei allowed the Tencent Department's Didi and Alibaba's Ant Financial Service to sit on Ofo's board of directors. Today, behind every business story, there's also a capital investment story. It is dangerous to violate common sense."
Balancing investments from internet giants is a dangerous game in the Chinese startup landscape. While Didi CEO Cheng Wei was able to keep both Tencent and Alibaba somewhat happy, Wang Xing's accepting Tencent money provoked Alibaba to pour billions into Meituan direct competitor Ele.me. In this case, Ofo's decision to open a WeChat mini-app (which does not accept Alipay) convinced Alibaba that Ofo could no longer be trusted. Ali convinced an early shareholder to transfer his board veto to them, thus enabling them to block potential buyout offers by Didi. Said one investor, "As soon as Ali joined the board, Ofo had no more moves to make."
Xu Xiaoping, the founder of Zhenfund, said, "Dai had been president of the Peking University Student Union [i.e., a stepping stone to political success]. Secondly, he went to Guizhou to teach after graduation. This means he's an idealist. If I don't invest in this sort of founder, who do I invest in?"
These ideals also led the CEO to fight it out to the last breath. Dai told employees who pushed him to take a buyout that "experience is worth more than money."
So he went to war. In May 2018, he called a company meeting to release a plan called "Victory Day."
"In front of a hundred colleagues, he recalled the movie The Darkest Hour, comparing Ofo to England wavering at the start of World War II. He used Churchill's example to exhort Ofo to never give up, to defend its freedom, and to fight until the last yuan."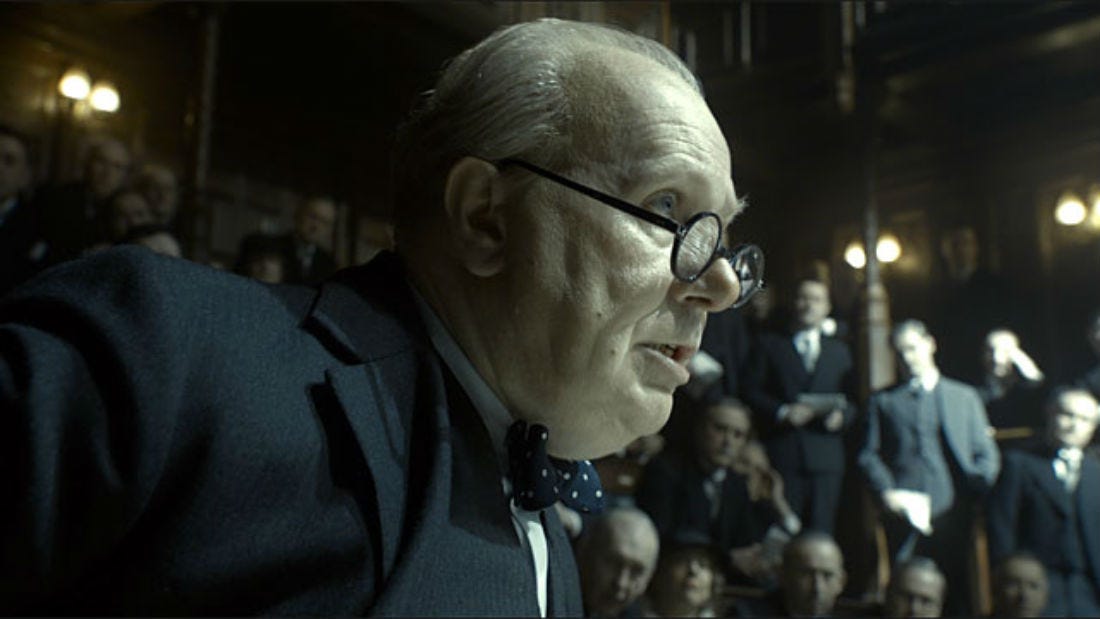 My sense is that bikeshares would be a little too socialist for Churchill's liking
After taking this stand, there were some small victories. Ofo started selling full-screen video ads that users would have to endure before unlocking their bikes, bringing in over 15 million dollars.
But the writing was on the wall. With Alibaba vetoing any further cash investment, and Didi having decided to build its own bike-share empire by buying out competitor Bluegogo, Ofo wasn't able to keep up its service. In Beijing, half the Ofo bikes I tried to unlock were broken. At some point, customers lost faith that their deposits would be refunded, and a "bank run" of sorts began. Clearly the firm had been dipping into user deposits to Right now, there's a line of over 10 million users waiting to get their RMB 200 back.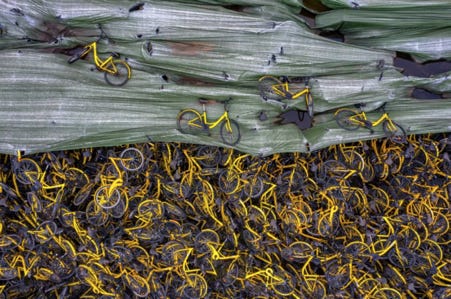 Bicycle graveyards began to proliferate across China. One photographer was most struck by the bikes' "weeping." It took him a moment to realize that this was actually the sound of failing electronic locks. "If you only hear this sound once or twice, it sounds like a cicada. But when its one after another, it hits your ears like a tidal wave. These bikes have been treated so roughly, they're trying to tell us their story with this scream."
The Chinese is worth reprinting:
之外,他还录下单车坟场的"哭泣"。在广州天河的一处单车坟场,吴国勇正在拍摄,突然听见"嘀嘀嘀"的声响,吴国勇愣了一会儿才发觉这是电子锁故障的声音,"如果只是一两声,像蝉鸣一样,也还好,但那是此起彼伏,若隐若现的,像潮水一样冲击着你的耳朵。"第一次听到这种声音时,吴国勇觉得十分瘆人,这使得"坟场"这样的比喻更为贴切了:"这些被暴力清缴的共享单车是有生命的,它们在用这种鸣叫诉说着什么。"