Discover more from ChinaTalk
Deep coverage of China, technology, and US-China relations We feature original analysis and reporting, interviews with leading thinkers and annotated translations of key Chinese-language sources.
Over 29,000 subscribers
Does the Next Starbucks Make Cheese Tea?
The Rise of HeyTea
This newsletter translates articles from Chinese media about tech, business, and political economy. I also host the weekly ChinaEconTalk podcast.
With the awful past week of news, for a change I've got something lighter and positive for you.
---
There's not much delightful in Chinese consumer experiences. Most stores and restaurants prioritize function over experience, expending little effort on interior design, service and product innovation.
And then there's HeyTea, the new-age tea shop chain so good I plan my weekends around it. At about $3.50 a drink, 25% higher than its utilitarian bubble tea competitors CoCo and Happy Lemon, HeyTea delivers. Its best-in-class product department comes week after week with new drinks like cheese teas, a fluffy, salty, savory cream cheese topping that only tastes good when HeyTea makes it. Hourlong lines are mitigated by top-level interior design and its WeChat Mini App that allows for remote ordering for pickup and delivery.
In the seven years since its first location opened in southern China, it has built up a network of 226 shops nationwide, and recently earned itself a billion dollar valuation. But will it be able to compete with the likes of Luckin Coffee and Starbucks? Given the operational excellence at which it's currently running, I'm optimistic.
What follows are abridged translations of a report on HeyTea from a WeChat-based commentator and an interview with the founder Neo Nie from a Chinese financial news outlet, exploring why HeyTea stands out from its competition.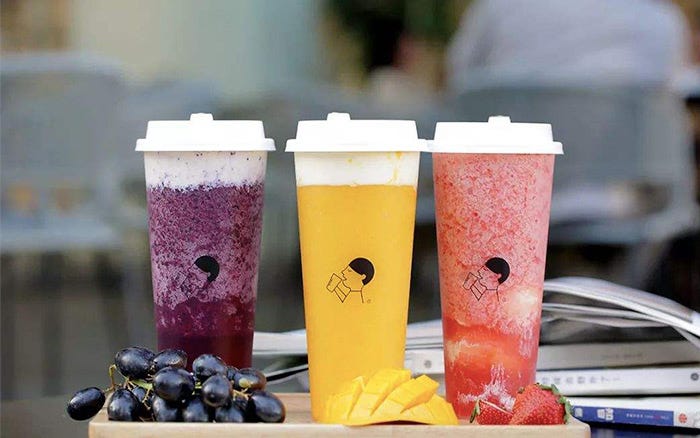 Is HeyTea For Real?
Jia Yun, Where Startups and Finance Meet, July 16, 2019
我们一起把喜茶喝到了90亿,从30平米小店干到全国227家店,究竟做对了什么?!
Together we as tea drinkers have brought HeyTea to a RMB 9 billion ($1.3 billion) valuation, from 30 square meters to 227 stores nationwide. But are they for real?
In China, the next Starbucks is likely to grow out of the tea industry.
According to a Meituan report, the potential size of the milk tea industry is close to RMB 100 billion, which is roughly equivalent to China's coffee market.
The performance of HeyTea has demonstrated to capital markets that an industry that started with streetside stalls can also give rise to premium brand. What's more, the tea industry can evolve like coffee has, going from just selling products to selling brands and social spaces.
Unlike past founders we've covered in China Voices, like Tsinghua grad and fuerdai Wang Xing who went on to found Meituan, or Ofo's Guanghua PKU grad founder Dai Wei, the HeyTea founder truly started from the bottom.
With no particular background or educational achievements, Neo Nie truly has a founder's 'Pirate spirit,' having already reached the summit before turning 30. On the Baidu Encyclopedia [China's Wikipedia equivalent] his resume is only two sentences long, and the main achievements section consists of only two words: "HeyTea founder."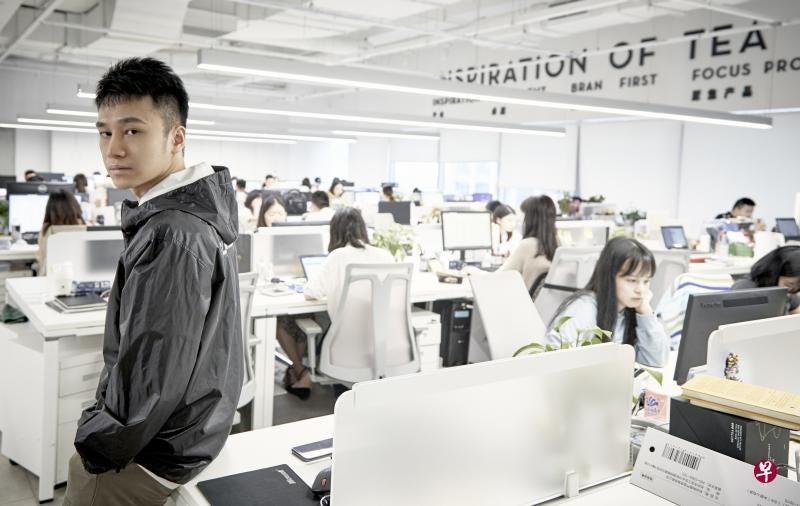 HeyTea founder Neo Nie (Image credit: Lianhezaobao)
In 2012, this young man who had no background in tea, opened up his first store in Guangdong province. Every day he drank 20 cups of milk tea, messing around until he invented cheese tea. Then business got better and better, and he began expanding province by province across China.
At the time, China's tea brands were still in the desktop age and Nie was unaware of the power that the capital sector could unleash on the whole tea sector. He took IDG's money [$15 million in 2016], and proceeded to raise the bar for what was possible.
Focus on the youth
What follows are excerpts from an October 2018 interview by 21st Century Business Review with Nie about the decisions he's made over the course of HeyTea's life.
Most young people don't like the bitter taste of tea, but enjoy the texture, so we use cold-brewing technology to reduce bitterness.
We don't spend on marketing, and put more money into the product. My hope is that our products bring their own 'taste memory points' (味觉记忆点), which is the best advertising we can hope for.
Just making the first cup of cheese tea doesn't mean we've automatically made ourselves a top-notch brand. I know clearly in my heart that we don't just want to be a cheese tea store, but rather give young people more access to tea. We hope to one day spread Chinese tea culture, make it more youthful and internationalize it.
Our key point is to use the best possible products. Our friends sometimes laughed at us, asking if we've gotten out of the tea business and become designers or architects? But this is to be expected as we go through the process of upgrading. For a long time now, I've been leading product development and design. For example, I used to really care about color, but now I'm more focused on texture. That said, the original instincts are the same.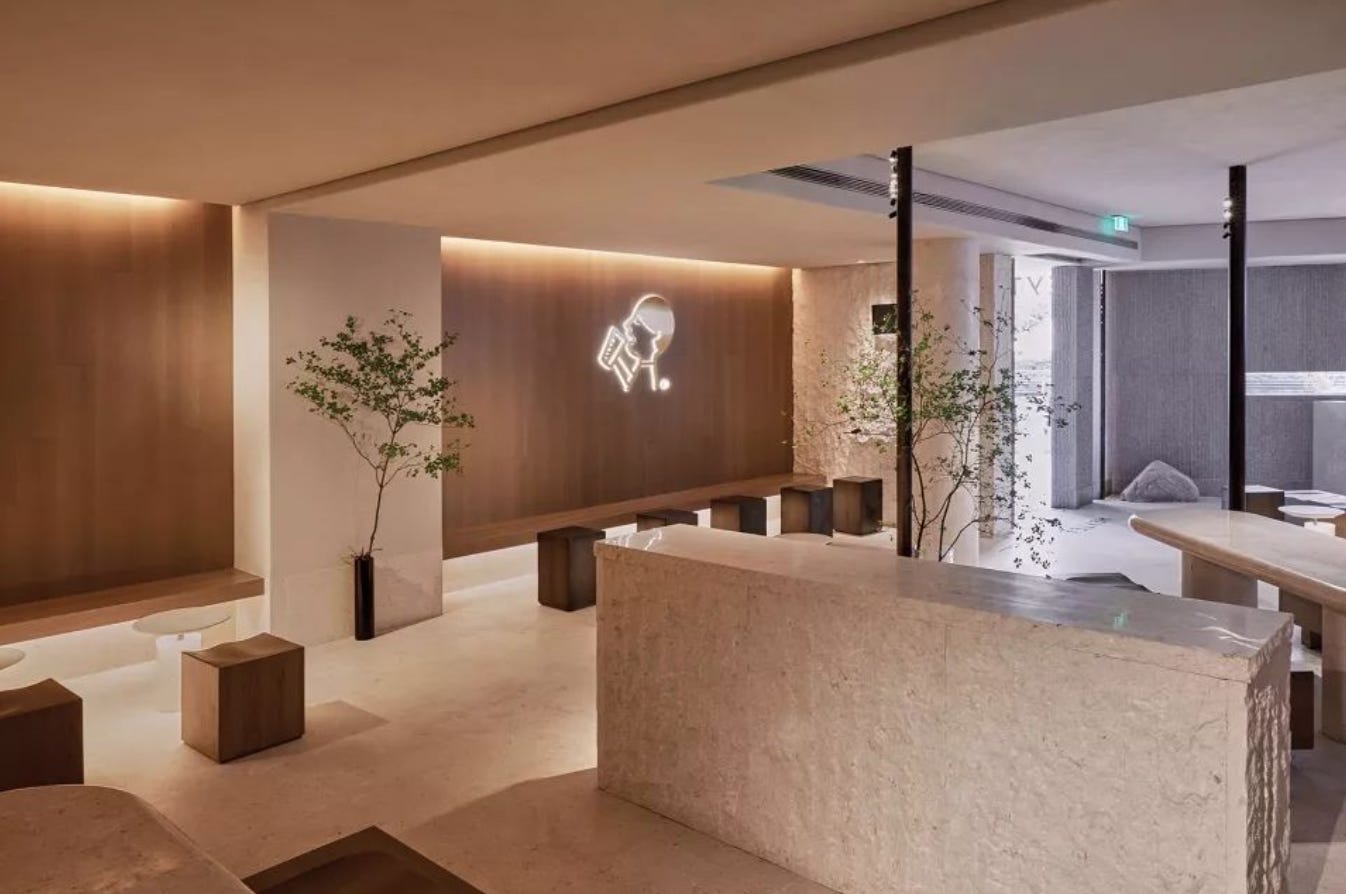 A new Chinese landscape painting-inspired HeyTea in Xiamen
HeyTea has never thought of itself as 'internet-famous.' Most people see that as a negative attribute. When you get more attention, many things get magnified. Some people think that you're paying people to stand in line [ed: the irony being that these people are pretty easy to pick out as being from a different social class as the target customer. On occasion though at the Sanlitun store there would be people you could pay to switch your spot with theirs].
The queueing phenomenon may be similar to when McDonalds entered China in the 1990s. The first McDonalds store in any given province had six to seven hour queues. Later, McDonalds grew fast, which is what HeyTea is now doing.
But frankly speaking, I was happy about our big lines, especially in the early days, because it represents how the customers feel about you. Later on, the queues just became too much, which made me worried.
Today our individual city stores do nearly $600,000 in business a month, with daily income around $15,000.  Our best shops can make 3000-4000 cups per tea a day, which is higher than any peers and even some foreign brands. At our average store we're already at a few hundred cups per day.
Hard to copy
HeyTea's method is all about rarity, so we're always putting out new products while at the same time looking for new ways of making products so that it's not easy to copy us. But what's most hard to copy is the brand.
In a HeyTea store, we don't run out business on KPIs. We don't want to just drive sales, but instead put everything in service of the brand. Focus on providing good things and the consumers will naturally come to your door.
We're always working on lots of different creative ideas, even if they sound ridiculous. Once new ideas emerge, we don't consider issues of standardization and cost.
In addition to the mainland market, HeyTea will be entering Hong Kong and Singapore [ed: as of today they already have three stores in HK and two in Singapore]. Going abroad isn't that much different for us.  From the beginning we've tried to make universal products that can reach the world, just like Coca-Cola and Starbucks.
Can't wait for HeyTea to kill it in Crown Heights.
Thanks for reading!
You can contact me on twitter at jordanschnyc, email at jorschneider@gmail.com, or on WeChat at jordanschneider. We have a wechat group but it's too big to just scan something to get in so just add me first.
A version of this article was first published on TechNode.