Discover more from ChinaTalk
Deep coverage of China, technology, and US-China relations We feature original analysis and reporting, interviews with leading thinkers and annotated translations of key Chinese-language sources.
Over 29,000 subscribers
Douban, China's Hub for Cultural Discussion, Is Dying
Goodreads+Metacritic+Quora+Facebook Events succumbs to censorship, spam, and gossip
I'm Jordan Schneider, Beijing-based host of the ChinaEconTalk Podcast. In this newsletter, I translate articles from Chinese media about tech, business, and political economy. 
Douban had a great run. As Jane Li wrote recently in Quartz, political pressures have finally gotten to one of China's last mainstream outlets for relatively free discourse. In the past few weeks, many popular groups have been deleted, and the newsfeed feature has been blocked, in turn dramatically stifling community interaction. 
This week's translated article doesn't directly address the new censorship, rather diving deep into the platform's evolution. Douban as a product has no parallel in the West. It started as a Goodreads before Goodreads existed, and then expanded into allowing users to review and comment on music, movies, plays and events. Users commonly post essays running thousands of words long. The quality ranges from Reddit rant to Grantland-level think piece, but Douban's content ranking algorithm encourages thoughtful discussion in a way mainstream content platforms in America do not.
If there are celebrities on Weibo and classmates and colleagues on WeChat, then on Douban there is a group of strangers connected through the same interests and viewpoints. They know what you are thinking even better than folks on WeChat."
However, An influx of new users is altering Douban's delicate ecosystem of cultural discussion. Old users have grown resentful of the "melon-eating masses" who only post about gossip, troll critical reviews of their idols' movies and flood the zone with nationalism. For instance, earlier this week I saw 'Better Days,' partly because Zhou Dongyu is my girl but mostly since I'm dumb and trusted the Douban score (which was certainly inflated by the presence of a TFBoy in the cast). Three-quarters of the way into this plagiarized snoozer of a gaokao/murder tale, I opened Douban and saw that the first longform review on the app was an epic five-thousand-word takedown of the movie, which concluded with a rousing call for Chinese audiences not to support substandard content on account of idols and Chinese themes.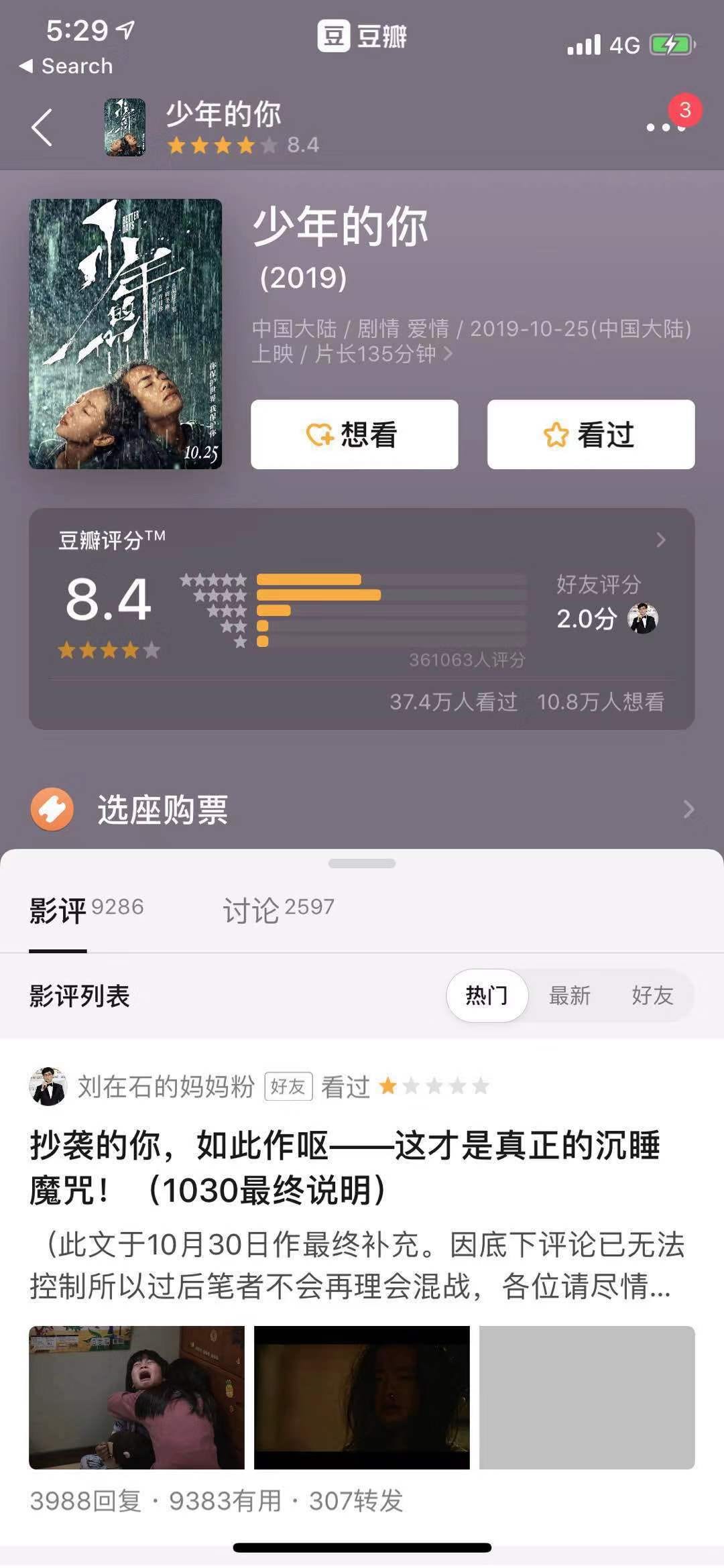 While Douban is certainly changing, recently a topic on Douban called "Why do you like Douban?" started trending. The highest voted answer listed a series of harsh critiques, but concluded by saying: "but there is nothing sadder than the thought that one day this place might disappear."
A version of this article first appeared two weeks ago on TechNode, a trusted outlet for information and analysis on China's tech.
If you were forwarded this email and are enjoying what you're reading, feel free to
This issue is sponsored by the Jackson Institute at Yale University, one of the world's leading Master's programs in global affairs. Jackson offers a flexible, interdisciplinary program that allows students to design their own curriculum choosing courses from across Yale's professional schools and programs. The deadline to apply is January 2nd. Start your path to global leadership at Jackson.

Author: Yu Han
Published September 19th, Hedgehog Commune. About 400k+ views, translated nearly in full.
Literary and artistic youth are not without commercial value, you just have to find out how to realize it.
If you're not a Douban user, it's hard to understand just how important Douban is to its base.
A decade ago, Douban was considered a shrine for literary youth. With the emergence of Douban, its use has expanded, but even in its 15th year, Douban has not completely shed the label of "literature and art."
For most people, Douban is just a book and movie rating site. But Douban has also developed a variety of other products around its core offering, together forming a unique ecosystem. A significant number of social groups live in this ecosystem. Only on Douban do they interact.
While the entire Internet world is chasing third-tier and fourth-tier cities, Douban is still struggling to break through. Douban is much more popular than it was a decade ago, but most of its target users are still in first- and second-tier cities. For the stability of the existing ecosystem, Douban can't really target lower-end consumers too fast.
Yang Bo founded Douban in 2005 and still serves as its CEO. He graduated with a bachelor's degree from Tsinghua University and a doctorate [in physics] from the University of California, San Diego.
There seem to be two worlds in Douban. Literary youth gather around books, movies and music; "melon eating masses" occupied the gossip group. There seems to be an invisible boundary between the two sides. 
\Yang Bo [the site's founder and CEO] originally positioned Douban as a "community site" for books and videos, helping users "find like-minded people through the things they like, and then find more good things through them." Until now, Douban is a rare website in China that has no analogue in the foreign internet.
The old users who signed up before 2012 were mostly attracted by the site's books, music, and video ratings system. Birds of a feather flock together—Douban has always been synonymous with literature and art.
Books were the original center of Douban. Most of the first users came for books, where they used its library feature. Until now, no Chinese website has been able to replace Douban for reading.
After books, Douban quickly launched film and music verticals. Two months after its launch, Douban opened a standalone movie feature because of the rapid development of the "movie-watching" group. No one will deny that Douban Film is one of Douban's most successful products. By Q2 2019, there were 196 million registered Douban users, among whom were about 100 million monthly active users of Douban Film. 
From books, movies, and music, to city activities [analogous to Facebook Events], and then to group discussion, this is a smooth product chain. Douban's idea is that books, movies, and music are the most common cultural consumer goods in daily life, so the city and group verticals are a natural extension of the review products. People who like reading books, watching movies, and listening to music together are likely to like the same exhibitions, movie shows, stage plays, and other activities. And when these people get together, there's a natural need for group discussion.
Groups have for a long time now generated the most traffic for Douban. At first, many old users liked these groups. Early, in addition to book, music, and movie groups, photography, postcard exchange, paranormal groups, silly groups, and other gossipy group also flourished.
For many users, moving from books to groups is a natural progression.
This year is the 10th year that user Jon Snow has been on Douban. On the anniversary of creating his account, he sighed: "When I was a kid, I liked watching movies and writing reviews. I was an authentic literary youth." Another regular user, who signed up in 2008, replied: "My dream was to be a screenwriter and director. Now I only read gossip."
The influx of gossip not only changed the proportion and influence of entertainment to the group, but also brought "pink circle culture" (fenquan wenhua—rabid "fandom" of the sort you might imagine around a KPop star)into douban.
One obvious change is in declining freedom people feel when scoring shows. On the one hand, the influence of Douban rating in the industry is gradually growing, and it is inevitable to receive pressure from the outside world. But what affects  book, video, and music users is that their ratings and comments may be "scolded" by other users.
After Douban's rating was released, the rating participants' expanded from movie fans to the general public, and the way people evaluated films also changed. Take the Oscar-winning film "The English Patient": The film, which scored 8.5 points on douban, was rated by some users as "talking about extramarital love in a big way"; others said it "blew my mind." Such non-professional reviews are now common on douban films.
A researcher with Fudan University's School of Economics said at the Shanghai Film Festival in 2015 that a movie released over the weekend with a higher score on Douban could earn an extra 350,000 yuan at the box office, proving the commercial value of Douban ratings. This kind of commercial value is honey to Douban—but it's arsenic to the user.
In one anonymous user's opinion, Douban has always been a place for self-entertainment. The old users are more immersed in their own world, choosing their neighbors, commenting, and sharing their lives, and they will not take the initiative to bicker with those who have different ideas with them.
When it was first launched in 2005, the CEO's slogan for Douban was "radish or green vegetables—to each their own," which was intended to include all types of users and hobbies. Early users mostly followed this rule, and even if there were different views, they also tried to "seek common ground while reserving differences."
But now, something that didn't belong on Douban has been brought in. New users changed the balance of Douban and the tone of communication between users, upsetting book, music, and video users; new users feel that the book, music, and video crowd are snobbish "literary youth." 
Douban is known as a 'slow company' in the internet industry and is not eager to make a profit [perhaps akin to Reddit in its early days]. Take ratings: compared to other ratings sites, Douban is so good as to act as the industry's conscience. Users have a hard time ratings bombing, and most bots are caught. Douban rarely follows the big internet trends—perhaps to the detriment of its investors.
Most of the old users are sticking with douban, both because of its cultural content, but also because of the people they've met on the channel. If there are celebrities on Weibo and classmates and colleagues on WeChat, then on Douban there is a group of strangers connected through the same interests and viewpoints. They know what you are thinking even better than folks on WeChat.
In addition, many regular users attach great importance to the marks they leave on Douban. To this end, users have even developed their own backup tools. 
Up to now, Douban is still regarded as a Pure Land [like Pure Land Buddhism] in the Chinese Internet world by many users. Even the typical artistic youth users like N, who have numerous complaints, acknowledge douban's unique value: "if Douban dies, it will be a great loss to the overall environment of China's Internet."
There is a topic on Douban called "Why do you like Douban?" The top answer listed a series of harsh critiques, and finally said: "but there is nothing sadder than the thought that one day this place might disappear."
The success of the Internet is not just a measure of how much money you make. There is such a group of users can not leave Douban. Douban will not die, it can not die.