Discover more from ChinaTalk
Deep coverage of China, technology, and US-China relations We feature original analysis and reporting, interviews with leading thinkers and annotated translations of key Chinese-language sources.
Over 29,000 subscribers
How Amazon Lost in China
I'm Jordan Schneider, the host of SupChina's ChinaEconTalk podcast. In this newsletter, I translate articles from Chinese media about tech, business, and political economy. 
This year Amazon made an unceremonious retreat from the Chinese market. In 2009, Amazon constituted a respectable 15% of Chinese e-commerce. Yet the latest reports put Amazon only at 0.6%. So what led Amazon, which has had considerable success in other overseas markets, to fail in China?
In a longform analysis published recently in Southern Weekend, reporter Zhang Yue interviews a number of current and former Amazon China employees for an inside take on its failure. 
Amazon China, not 'China' enough?
亚马逊中国,太不"中国"?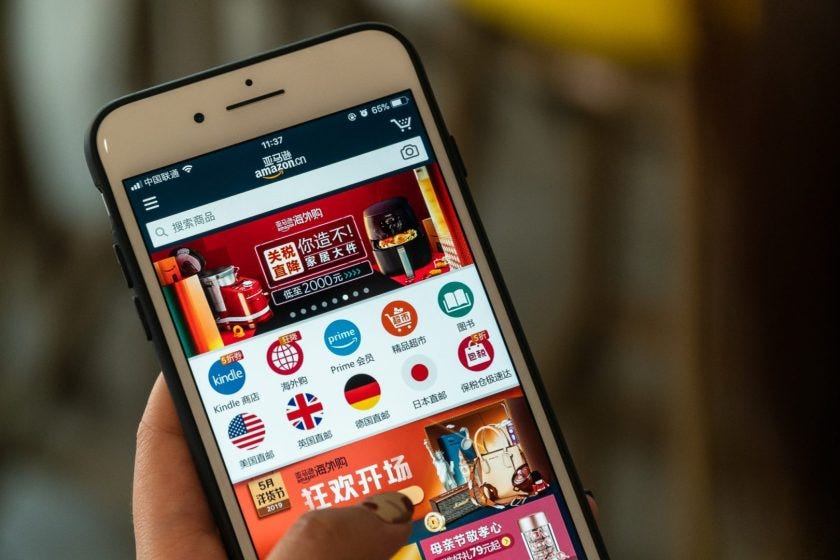 Product Issues
One employee, a seven-year Amazon veteran who requested anonymity, described the early days:
There was only one price and no discount system, so merchants who wanted to discount products had to change the price. But in China's e-commerce, discounts are the norm—Alibaba's discount system is at the "university level," with clear documentation; JD is at the "high school level"; Amazon is at "kindergarten level,"and even once Amazon implemented discounts, many bugs remained.

Amazon had telephone and online customer service, but you had to dig to find it. Further, on Amazon, you have to leave a message and wait for a reply, which is quite primitive compared with Taobao and JD's 24-hour online customer service.
Elsewhere on the product side, Zhang wrote, Amazon failed to adapt to market expectations. According to one former employee:
Amazon's interface is globally unified, as they hoped that people around the world could operate on the same system without barriers. But compared with domestic e-commerce, its interface is just ugly.

Amazon requires that only the goods themselves can be displayed in the main picture of the product. For instance, if you're selling a hair dryer, the picture can only display the hair dryer, and can't show models or wigs. Amazon feels that this prevents marketing illusions. However, domestic consumers don't agree, and because this internal policy persists, there's no way Amazon can keep up with the livestreaming e-commerce trend.

The front-end of foreign e-commerce is not particularly friendly, but Amazon has done more to make its back-end very powerful, and does not make mistakes in data storage and user information confidentiality. Many domestic e-commerce companies are the opposite: the front end is very beautiful, and the back-end is a mess as many things are handled manually.
Management Challenges
Amazon also lacked a coherent strategy, squandering initial advantages.
It entered the market with the arrogance of a king (wangzhe qipai), which had advantages in books, mother- and child-related goods [e.g., formula and baby toys], shoes, bags, sports/outdoor and books. The book lead came out of its initial acquisition of domestic firm Joyo. The maternal and child sector leads came from imported brands. Amazon's athletic shoe business was once the internet's largest, as they offered both authentic and cheap goods.

However, all of these initial advantages have been squandered. Today, Ali and JD.com are giants, and each individual market segment has a well-known platform. Amazon seems to have only the Kindle.
Zhang pins part of the blame on leadership turnover. Over its 15 years operating in China, Amazon has run through four different CEOs, including two foreigners with no China background to speak of. The two Chinese CEOs had spent their careers in multinational firms. One former employee said:
Foreign internet companies have a hard time in China partly because they are too timid and under no circumstances play in the grey area. In terms of government relations and media relations, they are far behind domestic players.
Zhang also notes a vast gap in work culture between Amazon China and local competitors Alibaba and JD. Amazon has a smaller workforce (around 2,000) than its local competitors, and can't afford to waste manpower. In contrast, Alibaba's divisions often have overlapping responsibilities, leading to multiple teams working on similar projects. One former employee said: "If you believe e-commerce is a battlefield, Ali, JD and Pinduoduo are fighting every day. Amazon just has no fight in it."
Amazon China employees told Zhang that they worked eight-hour days from 9 a.m. to 6 p.m., and people felt comfortable taking doctor's appointments in the daytime or picking up their kids from school. One ex-Amazon employee who currently works at Alibaba said:
Amazon really, really respects its employees' personal time. Even when he had to occasionally work overtime, the boss would feel ashamed in asking their employees to do so, in contrast to domestic firms that commonly schedule meetings at 7 p.m. and believe employees owe them overtime as a seigneurial right and have brainwashed their employees into thinking "work is life."