Discover more from ChinaTalk
Deep coverage of China, technology, and US-China relations We feature original analysis and reporting, interviews with leading thinkers and annotated translations of key Chinese-language sources.
Over 29,000 subscribers
How The Richest Chinese Donate Their Billions
And why one video game tycoon gave $1bn for neuroscience research at Caltech
I'm Jordan Schneider, Beijing-based host of the ChinaEconTalk Podcast. In this newsletter, I translate and analyze articles from Chinese media about tech, business, and political economy. 
I'm opting for a tipping model to support this newsletter which you can sign up for on Substack or Patreon. The money will go toward compensating ChinaEconTalk contributors who represent the next generation of China analysts.
I'll be in KL this week—if anyone wants to meet up just respond to this email.
---
My Yenching classmate Bradley Wo wrote a really interesting report on Chinese philanthropy.
A sneak peek of some of his findings:
Over half of the top 46 philanthropists give a majority of total lifetime giving to their home province or alma mater.

One-third of the philanthropists allocate a majority of their philanthropy through government channels. A philanthropist that is a member of the Chinese Communist Party, National Party Congress, or Chinese People's Political Consultative Conference delegate is almost 3 times more likely to donate through government than a philanthropist without such positions.

All of the philanthropists have given to education, with 8 philanthropists essentially giving exclusively to education.

Of the top 46 philanthropists, only 3 philanthropists include their spouse's name in their foundation.
Those who highlight their wives include this week's focus Chen Tianqiao, Ningxia coal boss Dang Yanbaowho sponsors students from his province as well as invests in clean energy, and JD's Liu Qiangdong. Compare to the Bill and Melinda Gates Foundation, The Chan Zuckerberg Initiative, Laurene Powell Jobs, the William and Flora Hewlett Foundation, Susan Buffett, and so on…
---
Chen Tianqiao is an outlier amongst his peers. He first catapulted to fame for being labeled the youngest richest man in China at age 31 after his Shanda online games company listed on the NASDAQ in 2004. Since then, Chen Tianqiao has continued to make decisions that are at odds with his Chinese counterparts. He has moved his family from Shanghai to Singapore and then to Silicon Valley. And he has given $1 billion to create the Tianqiao and Chrissy Chen Institute for neuroscience research at Caltech.
Amongst Chinese philanthropists, Chen Tianqiao stands out. Most choose to give to poverty alleviation or education, not to neuroscience. Most give domestically or even through government-affiliated charity federations, not set up a limited liability company in the US. And few Chinese philanthropists give at the scale Chen does.
His attempt to erase suffering and the motivation of his Buddhist beliefs and personal issues with anxiety and panic attacks make him unique. In this recent interview with Gu Yu Lab featured below, Chen Tianqiao explains what led him to this work and why he does it. The first half is loosely translated but the Q&A is translated largely verbatim.
Oct 21, 2019. Gu Yu Lab. Translated by Bradley Wo.
Menlo Park, California is very bright in the early morning. Four years ago, Chen Tianqiao moved here, to achieve what he had committed to do.
When Chen was younger, he was in the online gaming industry. At the age of 28, he used $300,000 to buy the rights to the Korean game "Legend of Mir II" in China. He was rewarded with 60 million users. At the age of 31, his wealth accumulated like water in the rainy season, reaching RMB 15 billion ($1.8 billion in 2004 dollars) and making him "the youngest richest man in China's history."
[Legend of Mir 2. Looks pretty fun I guess?]
That same year, a man four years older than Chen drove to Chen's office building, and poured gasoline on himself and pulled out a lighter. He demanded to meet Chen. The man said that he did not want to hurt anyone including himself, but had come to discuss a problem: he had never received the gear he had purchased in an MMO Chen owned. The gear had disappeared because Chen had modified the game's code a few days earlier. Because of the tension, the man fumbled and dropped the lighter. Flames climbed up his sleeves and then following that: fire extinguishers, smoke, ambulances, second-degree burns, newspaper front pages, a tumbling stock price, and public outcry. For three months after that, Chen continued to have panic attacks.
Chen came to Silicon Valley on a plane. If you know someone with severe anxiety and panic attacks, you now it takes a lot of courage to fly. When he listed three companies on Wall Street, no one rang the stock exchange bell; when working with Harvard University and MIT, the university presidents flew over the Pacific Ocean to meet with him. There were other matters and moments that couldn't get him on a plane. But like the story of Aladdin's lamp, it was his dreams and aspirations that finally got him on the plane: a newspaper article about Caltech's neuroscientist Richard A. Andersen and a paralyzed patient who waved a robotic arm with his mind.
From across the sea, the robotic arm waved at him as if greeting the prospect of a better life. Chen was 42 years old when he boarded the plane with one thought in his mind: it is not money, nor love, medicine or time… it is truth that gives people freedom.
For four consecutive years, Chen met brain scientists one after another. He methodically visited American universities and research institutes. From California to New York, from Washington to Arizona, by the fall of 2019, he had met more than 300 scientists. He took notes, listened and asked questions, and like an investigative journalist, he demanded at least two hours of discussion with each of them. He also met with 28 university presidents from the best universities. They described to him their schools' vision for the field of neuroscience over the next decade. In the evening, he studied the two textbooks for undergraduate students in neuroscience given to him by the president of Stanford University.
When Chen passed through the marble atrium at Caltech, he saw the school's motto: the truth shall make you free. It was not long before he decided to build a neuroscience institute there with a $1 billion donation. Professor Andersen, who waved the robotic arm, was appointed director of the Tianqiao and Chrissy Chen Institute (TCCI). 3 years after Chen's move, Professor Andersen stimulated a patient's nerves to make him feel as if something was crawling on the back of his hand – a 100% simulated, non-existent touch.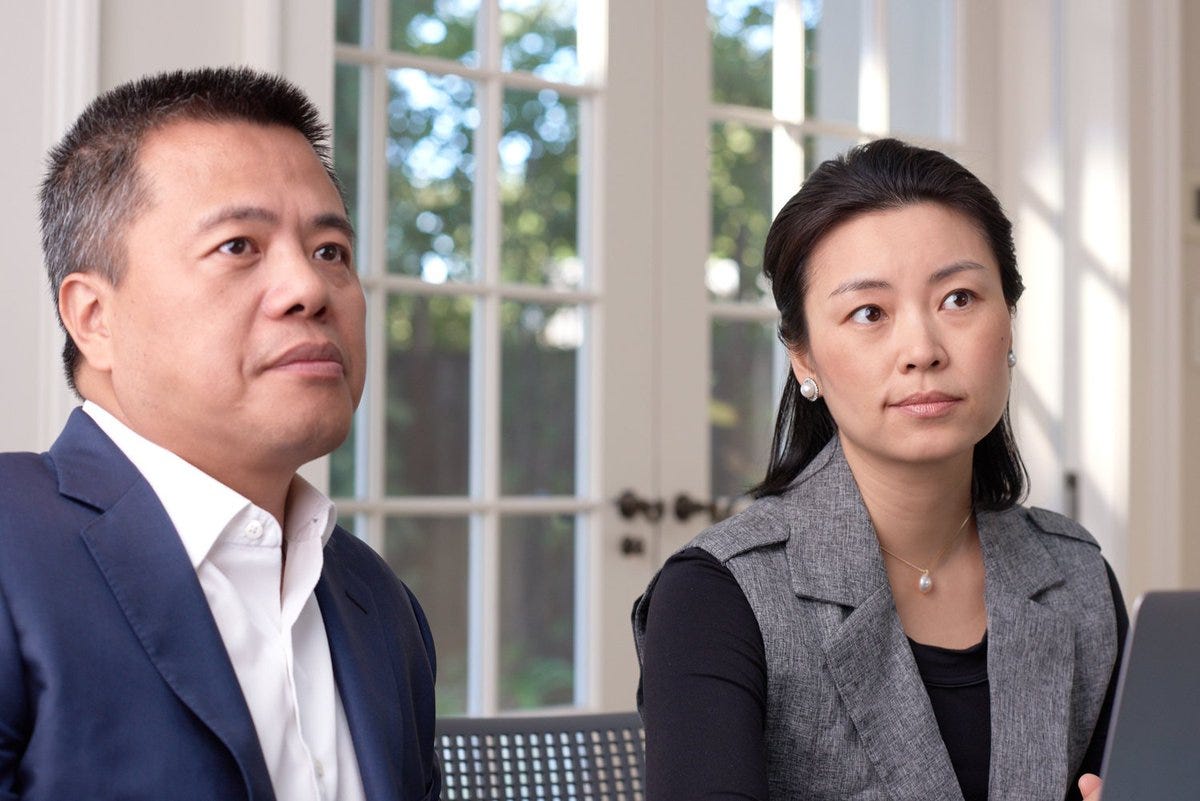 Interview transcript of Chen Tianqiao, Chrissy Luo, and Gu Yu
Chen: When I sold my business at its peak, Tencent was only 70-80% of Shanda's size. If I sell what is pressuring me, then I am free to do what I want. Over the past 10-20 years, I have had many questions and struggles and this is part of what has given me stress. When I decided to put my company up for sale, many people said that I should instead list the company and then I would once again become the richest man in China. But my wife said: you already were the richest man when you were 30 – what is the point of becoming the richest man again at 40? Can't you do something different, something that would excite you?
Gu Yu: So you decided to take a different path.
Chen: My wife said you should first inspect your brain and understand how your brain's reward system works. I have never gained pleasure from repeating and copying things. [. . .] When I was sick and after a year of living in Singapore, I was ready to quit and go back to China. But my wife said, isn't this the best time to take on a new challenge? From 2013-2015, I contemplated what I would do if I left the company, what would make me happy, and what I could do with my wealth. It had to be both a rational and an emotional decision.
We had invested a lot in education, poverty alleviation, youth, but finally, we decided that the brain is at the root of everything. So we sold everything. My zodiac sign is the ox and my astrological sign is Taurus: I thought I should sell everything and concentrate all of my energy on this.
[. . .]
Gu Yu: Doing charity is much busier than I imagined. You just came from a meeting?
Chen: This afternoon I met with professors from University of Arizona and UC San Diego who came to talk to me about an idea that we hope we can support. It is very interesting – they use technology to achieve "enlightenment."
Gu Yu: Is this the "enlightenment" of Buddhism?
Chen: Yes. They say you can be more concentrated and peaceful with this brain device. As you can see, this is a very interesting area. But to be able to make a significant impact, you must be fully committed.
Many foreigners view Chinese entrepreneurs as wealthy businessmen who just come in and buy businesses at whatever the price – of course, suddenly we are no longer allowed to buy – and think that Chinese entrepreneurs will eventually buy the world. But yesterday I was talking with Yidan (Chen Yidan, philanthropist and co-founder of Tencent) about whether we can bring a different image of Chinese entrepreneurs to the world: one that is not just about buying but also about giving.
Gu Yu: How is giving money different from making money?
Chen: It is more difficult to give money than to make money. Determining the return on an investment is easy to define and quantifiable. But there is no clear way to measure the return on giving money: social impact is difficult to measure and see.
Gu Yu: When you give money, are you very concerned about measuring the amount of impact?
Chen: TCCI is a scientific research institution. We give money and hope that through it we can discover the truth. Naturally, I care if this money can solve a specific scientific research problem. And even if it can be solved, will it actually help us in areas like disease treatment or brain development? If you discover a zebrafish neuron that controls sleep, what does this have to do with me? Is it directly related to solving insomnia? This must all be taken into account. The return on this investment takes much longer than you think. Maybe it'll take ten years, maybe you won't ever get a return.
Gu Yu: Do you challenge the scientists directly with these sorts of questions?
Chen: Of course – I will ask these types of questions to everyone. For example, with today's professors, my first question was how do they address the potential harm the device may have on neurons. Second, I asked how do they determine the location of "enlightenment" in the brain. Third, I asked how can this device be tested and then shared for the public's benefit rather than remain conceptual? Only after asking these questions and hearing their clear answers am I willing to give money.
This is, admittedly, very difficult. It is like trying to predict who will win a marathon after only the first 5 meters. [. . .] You know that your judgment may be wrong and then you will have wasted money. But it must be done.
Gu Yu: Do these scientists feel a lot of pressure when talking with you?
Chen: They must. This is what they call the new generation of philanthropists. We are more demanding. If I was 70 or 80 years old, perhaps I would give my money to a famous Nobel laureate or display my name on a building. It's very easy to get your name on a building. But we are different – every penny we have is earned, not given to us by our parents. I am only in my 40s – I still have 40 more years to enjoy and see the results of my efforts. [. . .] So I must study and focus on what I really want to achieve and not squander my money.
 [. . .]
Gu Yu: I remember that you said you have successfully "brainwashed" your daughters into all wanting to be neuroscientists when they grow up. [. . .] Do you really prepare neuroscience homework for them?
Chen: Currently, I don't push them to go into neuroscience, I just plant the idea inside their head. I tell them that the Chen family helps people solve problems with their brain and mind, and even if our generation cannot discover the truth about where we come from, who we are, or why we exist, their generation must continue to search. They are all very proud. This past year was the first time my eldest daughter studied at a university campus while in a summer camp. She chose a psychology class: I think because of my "brainwashing." [. . .]
Gu Yu: I see that you want to use most of your assets as a sustainable source of investment for neuroscience, with only 2-3% of your wealth going to your children.
Chen: Yes, my children can live an upper-middle-class life with this amount. I think we have already given them more than enough. If they cannot spend or use the extra money well, it will just be more of a burden for them.
Luo: We hope to use neuroscience and TCCI as our family legacy.
---
If you want to get in touch just respond to this email or add me on wechat at jordanschneider and I'll add you to our ChinaEconTalk group. Please do consider supporting this newsletter on Substack or Patreon.