Shipbuilding Part 2: Can Tech Transfer Get China to the Cutting Edge?
I'm Jordan Schneider, Beijing-based host of the ChinaEconTalk Podcast. In this newsletter, I comment on and translate articles from Chinese media about tech, business, and political economy. 
This week is part two of our ongoing series on Chinese industrial policy. The following article comes from Alex Osborn, a new contributor to ChinaEconTalk. Alex studied economics at James Madison University and is currently a data analyst at a tech startup in the Washington DC area.
If you'd also like to write about China tech or industrial policy, or just say hi, just respond to this email!
---
In last week's newsletter, Jordan examined strategies the Chinese government has pursued to capture global market share in shipbuilding. This week I will dive into the capabilities and limitations of the industry to see if the gain in market share has translated into true shipbuilding ingenuity.
Since the 1990's China has aggressively implemented policies to establish a self-sufficient shipbuilding industry that can compete on the international stage. The government's efforts have propelled it from less than 10% of global market share in 2000 to producing more than 40% of the world's seafaring vessels in 2018. By incentivizing foreign collaboration and subsidizing domestic manufacturers China has broadened its technological capabilities while remaining competitive against Japanese and Korean counterparts on cost and capacity. But is the massive rise in market share indicative of a true advance in indigenous innovation or are Chinese firms only just beginning to catch up with the rest of the world?
The technological capabilities of Chinese shipbuilders have always been a function of the international partnerships they maintained.
During the mid to late 20th century, China relied on ancillary components (e.g. engines, electrical systems, steel, cables) imported from or designed in the Soviet Union. In the 1980s they also began sourcing components from Western nations. Following a series of reforms and the creation of the China Shipbuilding Industry Corporation (CSIC) in the 1990s, China sought to encourage international collaboration through partnerships and joint ventures, initially focusing on developing domestic capabilities in engine and electrical system manufacturing. The goal of many of these collaborative efforts was to reverse engineer technologies to reproduce them within China not only to satisfy domestic demand but also to leverage these new capabilities to compete internationally.
Partnering with foreign firms also led to the adoption of computers in the manufacturing and design (CAM/CAD) of large and complex shipping vessels, such as liquefied natural gas (LNG) carriers and ships over 300,000 DWT (deadweight tons). Another major development that enhanced China's ability to build complex ships was the acquisition of Very Large Crude Carrier (VLCC) design technology from Korea Marine Technology Consulting Company. These efforts are of particular interest to the Chinese government as building more high-value (i.e. high profit, specialized) vessels is a focus of recent strategic industrial plans such as Made in China 2025.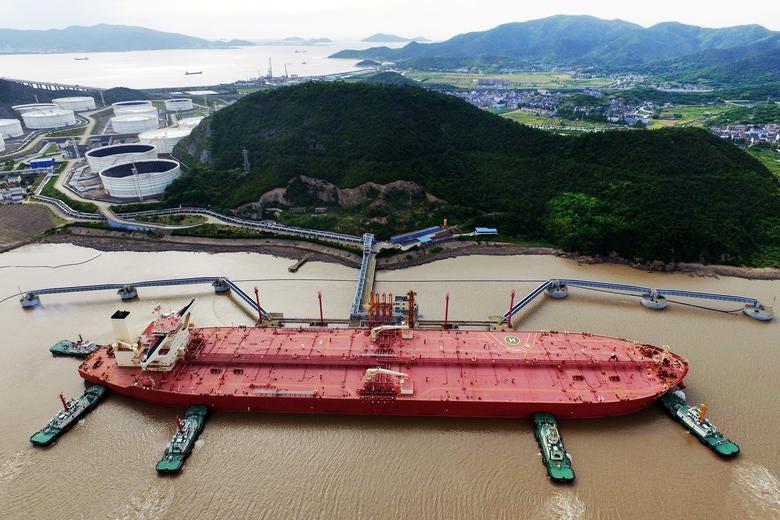 A very large crude carrier (VLCC) in Ningbo Zhoushan port © Reuters
Foreign partnerships also brought softer technological developments in R&D, management, and process efficiency. By increasing funding for R&D projects, building new labs, and connecting universities with shipyards and component manufacturers, China hopes to spur innovation domestically. On the production side, they have made a concerted effort to build integrate shipbuilding into industry "clusters" (i.e. colocation of the manufacturing, logistical, energy, and human resources required to build ships) to improve operational efficiency.
But perhaps the most important strength of the Chinese shipbuilding industry is its influence on policy, or rather the influence on policy on it. Since being marked as a "strategic industry" in the five-year plan announced in 2006, Chinese shipbuilding has doubled in market share. This was in part accomplished by encouraging restructuring (e.g. M&A of smaller enterprises, vertical integration) and providing financial incentives like:
Export tax rebates for shipbuilders

Allowing joint ventures with 100% foreign ownership

Subsidizing input costs (steel, energy, land, and technology)

Subsidizing 17% of shipbuilding costs for Chinese shipowners 

Free/low-cost loans
Most of the limitations of Chinese shipbuilding are directly related to how their capabilities are acquired.
In spite of increased funding for R&D, firms are still heavily reliant on foreign partners to acquire and implement new technology and thus are technologically bound by the willingness of international firms to collaborate with China.
While shipyards have slowly acquired the technological capabilities to build some complex ships, they still lack the ability to design specialized vessels for offshore drilling or LNG transport. This lack of specialization also extends to ancillary components; the benefits of clustering shipbuilding resources are stymied by the fact that a large portion of specialized components still has no domestic manufacturers (and thus still needs to be imported). 
Since much of the growth is focused on improving already successful shipyards, this has left a number of older ones behind both technologically and financially since they are specialized in low-profit and shrinking types of boats like bulk carriers, oil tankers, and container ships. This disparity has led to shipyard-specific concerns from customers about quality control and financial viability (i.e. closures and delays). These concerns were compounded when, in an effort to prop up the industry in the middle of a slow down in 2014, the Chinese government implemented a "white-list" that favored large, successful shipbuilders with respect to order allocation and financing. This led to the closure of hundreds of smaller shipyards while white-listed companies accounted for ~90% of vessel deliveries in 2016. The white-list has been eliminated as of early 2019. 
While industry subsidies are an important driver of China's ascendance in shipbuilding, they are likely necessary to maintain current levels of production (particularly for exports).
Although per unit labor costs for Chinese shipbuilders are still significantly lower than Japan or Korea due to low wages, Chinese manufacturers face increasing wage pressures. Another factor that threatens productivity on a dollar (or yuan) basis is shipbuilders' slow adoption of enterprise IT software. While computers have been leveraged for design and manufacturing purposes, many shipyards have not taken advantage of the efficiency gains that automation could provide in purchasing parts, servicing of ships, and managing facilities and personnel. These factors put an upper bound on what the industry can achieve with respect to efficiency and to what extent they can compete on the world stage.  
Although the progress that the Chinese shipbuilding industry has made in the past two decades with respect to market share and technological capability is truly remarkable, its position as a global shipbuilding leader is at risk while it finds a way organically develop new technologies and fully realize the benefits of economies of scale while facing upward pressures on wages. The future success of the industry likely hinges on whether China can pivot from a heavy reliance on international collaboration for the construction and design high-value vessels to domestic innovation that enables them to be competitive with more specialized shipbuilding nations such as Japan and Korea.
This still leaves a number of open questions. If all international players are aware that Chinese companies leverage JVs and partnerships to "share" technological knowledge with competing countries, then what incentive do Korean or Japanese companies have to continue to engage in these agreements? Is it purely a matter of these firms wanting to expand into the Chinese market? How can these firms maintain their economic moats in the long run? It will be interesting to see if foreign partnerships continue to proliferate in light of China's rapid ascension in shipbuilding. 
Ceremony unveiling New Journey, China's first "smart" VLCC © China Merchants Energy Shipping Co