Discover more from ChinaTalk
Deep coverage of China, technology, and US-China relations We feature original analysis and reporting, interviews with leading thinkers and annotated translations of key Chinese-language sources.
Over 29,000 subscribers
Why China's WeWork Clones Are Thriving
I'm Jordan Schneider, Beijing-based host of the ChinaEconTalk Podcast. In this newsletter, I translate articles from Chinese media about tech, business, and political economy. 
I just want to start out saying that nothing in this newsletter is as important as the NYTimes reporting on Xinjiang and what's going on in Hong Kong. If you haven't found the time yet, do take fifteen minutes to read up.
I'll be in Guangzhou this week if anyone wants to meet. If you'd like to help with future translations (I can pay!) or join the ChinaEconTalk wechat group, please add me at JordanSchneider. I'm also on twitter here.
A version of this article first appeared two weeks ago on TechNode, a trusted outlet for information and analysis on China's tech.
---
Masayoshi Son didn't quite hit the nail on the head when he dubbed WeWork "the next Alibaba." WeWork's China expansion has been "bleeding cash," with the FT reporting that its Shanghai and Shenzhen offices have only been able to muster massively unprofitable 65% occupancy rates.
Masayoshi Son's greatest money sink did, however, spawn a whole breed of Chinese copycats. The successful Chinese co-working space companies have chosen to develop well-rounded business models selling services and a broader network to its customers. As UCommune, the leader of the domestic co-working pack, plans for a 2019 US IPO, it's worth taking a look back at why they have succeeded where WeWork failed.   
The Chinese co-working space market took off in 2014, just as WeWork hit its $10bn valuation. It inspired hundreds of imitators in China. In just that year, the number of co-working offices in China grew from 50 to 2,300.
Coinciding with the crest of China's startup wave, at first, the coworking industry model was very simple: signing leases for large chunks of office space, subdividing and renting.
By fall 2018, the industry had taken on nearly 6bn USD in investment. As reported by Xi Yan in Pencil News, over 300 competing companies have collectively opened 6,000 locations encompassing 12 million square meters and a whopping two million work desks. Oversupply led to under-market pricing and lower than breakeven occupancy rates. Of late, the industry has gone through a round of consolidation, with many struggling firms selling themselves off to larger competitors. Nowadays, less than ten companies can claim to have raised more than a B round.
Xi Yan in Pencil News, October 19.
After 2018's M&A spree, the key words for the industry in 2019 became "adjustment" and "closing shop." As Xi Yan in Pencil News writes, 祖师爷" WeWork血淋淋的教训在前,它"中国门徒"们也开始选择以稳为主的发展策略,首先解决"活下去"的问题. "WeWork's Chinese disciples have been in survival mode long before their 'founding seer' WeWork learned these bloody lessons."
Pan Shiyi, CEO at Chinese real estate giant SOHO China, is very skeptical of the coworking business. Xi quoted Pan saying,
 I think profitability is #1, and scale is #2," said Pan Shiyi at a recent city outreach conference, roasting the entire industry. "Giving money to immature entrepreneurs in immature industries is a bad thing. You spoil things with excessive enthusiasm. All this money leads to waste." At the same time, he "warned" investors that "if you give this market a blood transfusion, investing round by round, you're flushing money down the toilet and won't be able to make a living.
The largest Chinese player in the co-working space is Mao Daqing's Ucommune. According to Xi, without a huge war chest and the head start over its competitors as WeWork had, UCommune had not indulged in Adam Neumann-type extravagances and focused more aggressively on its bottom line. Ucommune has differentiated itself by incubating startups itself, launching partnerships with other coworking spaces and eventually buying out a handful of its competitors. It now is in 44 cities with over 4,000 customers but is no longer as focused on physical expansion.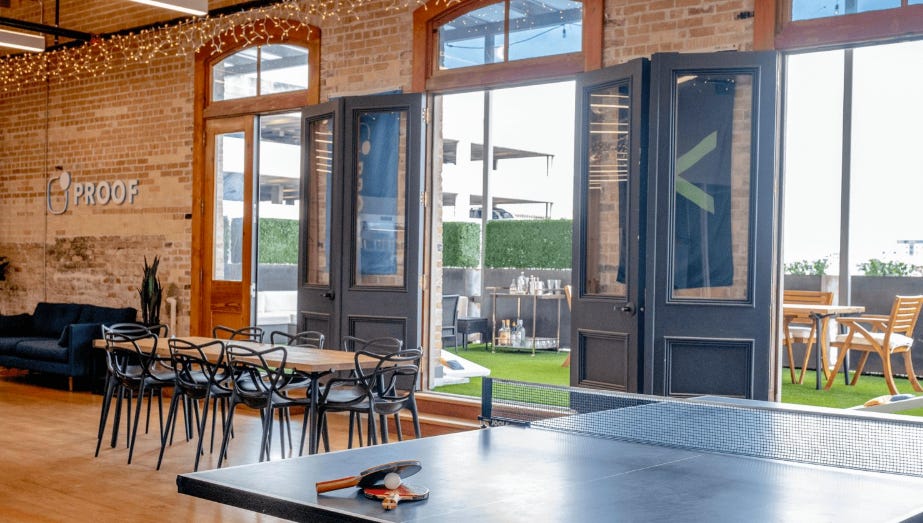 Photos from UCommune's home page. Chinese WeWork clones don't have any defining aesthetic beyond 'AirSpace' as brought to you by any bougie coffee shop and Airbnb.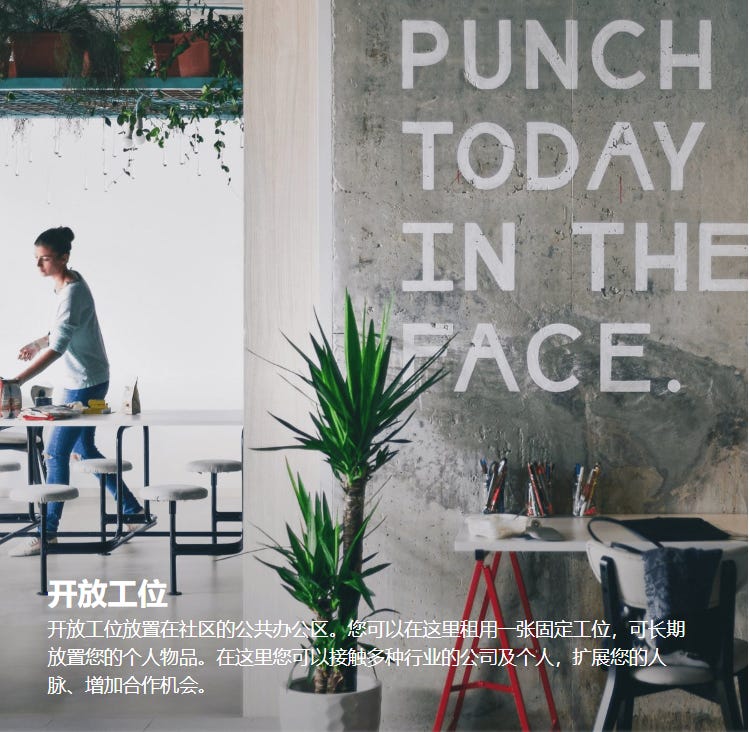 I would definitely pay extra for an office that had Song Dynasty gentlemen study vibes. Just sub out the hanging stroll for a ppt and you'd be good to go. Talk about cultural confidence!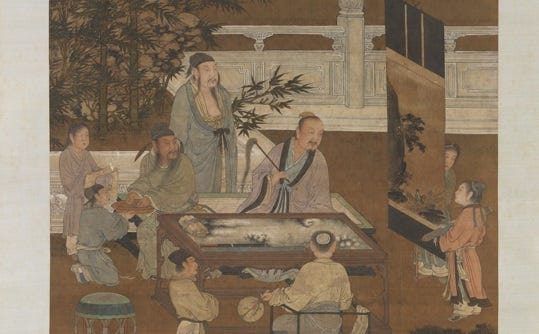 Mao Daqing, UCommune's CEO, argued that the industry needs to pay closer attention to management, diversifying revenue, and differentiating operations. Xi quoted Mao saying that "Coworking is not a 'business for now' 现在的事业, it's an industry that looks to the future. Our core business is continuously improving the office efficiency of our member companies, and that's something we can always improve on."
Xi believes that the industry is developing beyond an era was defined by high growth and low usage rates. Since the demand for flexible office space isn't going to disappear any time soon, the maturation of the market could help the remaining players.
"Rick" publishing at Jincuodao this past September explains UCommune's ability to outcompete WeWork through an analogy to the Meituan v Groupon war in the early 2010s. Like Meituan, UCommune has focused on operational profitability and a diverse product set.
After some large M&A deals in 2018, UCommune now has several co-working brands under its umbrella, and now can launch co-working products of different sizes and functions. According to its founder, the value of UCommune isn't the number of office locations but rather the network of services it can provide enterprises. This network is regarded at UCommune's core competitive advantage.

Unlike WeWork's 'community' model, UCommune has built a complete online service platform around the small and medium-sized enterprises that live in the service. These offerings are also open to third parties [who don't rent space from UCommune]. Their new products include Internet of Things experiments, vending machines, unmanned gyms, online printer services [there are still thousands of retail print shops in major Chinese cities], [unmanned KTV and laundry drop-off] and so on. Thus, they have been able to establish a whole business model centered around shared office space.
With the impending release of UCommune's financials in the run-up to its IPO, we'll soon learn just how successful UCommune has been at improving upon the WeWork model.